Childcare Center Insurance Program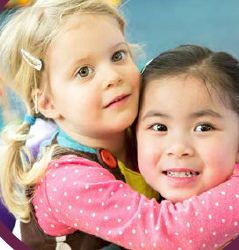 3 Reasons to Choose
Coverages
We offer Child Care on a Commercial Package Policy (CPP) or Businessowner Policy (BOP). Coverage packages may be tailored to include:
Property, Inland Marine, and Crime protection
Automobile Coverage
Crisis Event Expense
Cyber Suite Coverage
Specialty liability coverages

Child Care Legal Liability
Employment Practices Liability
Abuse or Molestation Liability

Umbrella Coverage
Services
Risk Management resources are designed to help reduce losses. Services are included with any policy and offer:
SafeSchool trainings, videos, and surveys
Knowledgeable and experienced safety professionals
Safety hotline
Claims
Years of experience handling sensitive claims like errors and omissions, abuse or molestation, and employment practices liability allegations.

Legal Liability
The outcome of a claim or lawsuit could be very costly to child care centers and those making decisions there.

Our Child Care Legal Liability provides coverage that is considered industry leading.
FOR THE DECISION MAKERS
Automatically included as insureds are:
The child care center
Trustees
Board of Directors or Trustees
Employees
Board members
Volunteers
ACTIVITIES OR EVENTS THAT MIGHT RESULT IN CLAIMS under this coverage include:
Censorship
Contract disputes
Emotional distress
Dress code violations
OPTIONAL COVERAGES AVAILABLE
Unlimited Duration — Optional extended reporting period will cover claims made beyond the automatic extended reporting period after your policy term ends. The incident that caused the claim must have occurred during the policy term. Certain conditions apply.

Optional Unlimited Prior Acts Coverage — For incidents that occurred before your policy took effect, this can cover a claim if it wasn't previously reported to another insurance company, you had no knowledge that the incident might cause a claim, and the claim is first made against any insured during the policy period or any extended reporting period provided. Certain conditions apply.

Additional Defense Coverage — This endorsement is available to respond to lawsuits not seeking monetary damages. In states other than New York, defense coverage can also be provided for lawsuits claiming loss from asbestos.